Maximize the value of every impression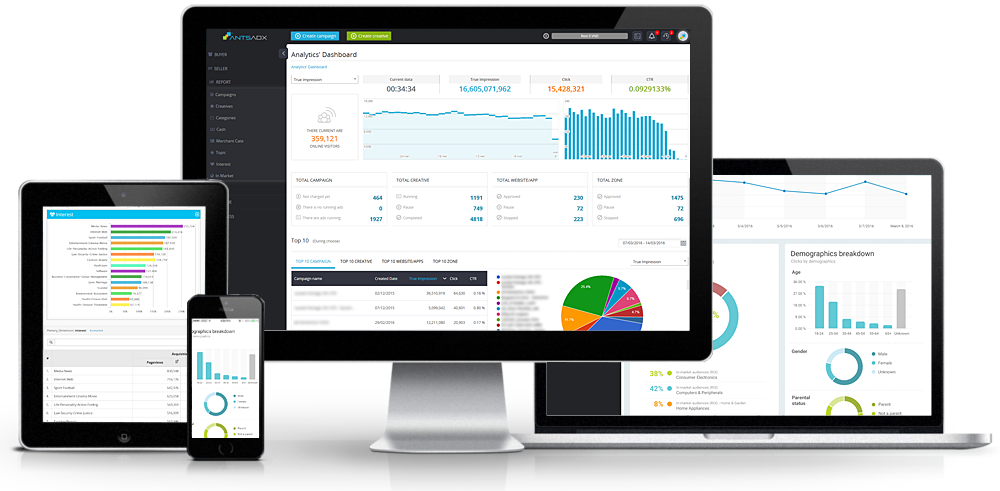 ANTS is the leading technology-driven integrated internet advertising platform in Vietnam and Southeast Asia.
ANTS has led the industry in helping premium publishers maximize their ad revenue and simplify their operations. ANTS pioneered the Private Marketplace, Real-Time Bidding, Re-Targeting and Dynamic Re-Targeting and built technology that made it easy for publishers to identify new opportunities and control how every impression is sold across desktop, mobile and video.
Publishers have access to over top media buyers, including demand side platforms, ad exchanges, agencies and agency trading desks, and ad networks, through the ANTS platform, supplemented with customized consulting services that help maximize revenue and grow publishers' business.
ATNS's ongoing commitment to solving the needs of publishers means that our platform will continue to evolve as the digital ad landscape does.
ANTS Ad Server
Fully-featured and Multi-screen
Maximize yield from all your digital advertising through a single ad platform
Consolidate inventory management including display, mobile, email, and video
Sell valuable audience segments to advertisers at a premium
Experience painless ad operations
Meet your advertisers' needs
ANTS Ad Exchange (ADX)
Global Real-Time Bidding Marketplace
Reach the world's top advertisers, agencies, DSPs, and ad networks through a global ad exchange where you'll trade with real-time bidders to get higher CPMs and increase yield.
Maximize your overall ad yield when all digital advertising buyers compete in a super auction
Sell 100% of your digital advertising inventory
Increase control of who buys your ads and what categories of ads are run, by using whitelist and blacklist controls
Set minimum prices for your digital advertising space so only bids above it are accepted
View detailed reports covering who buys your inventory, and what they paid for it
Get started fast through any ad server, or simply adding a tag to your site