Manage and Sell All Your Inventory from One System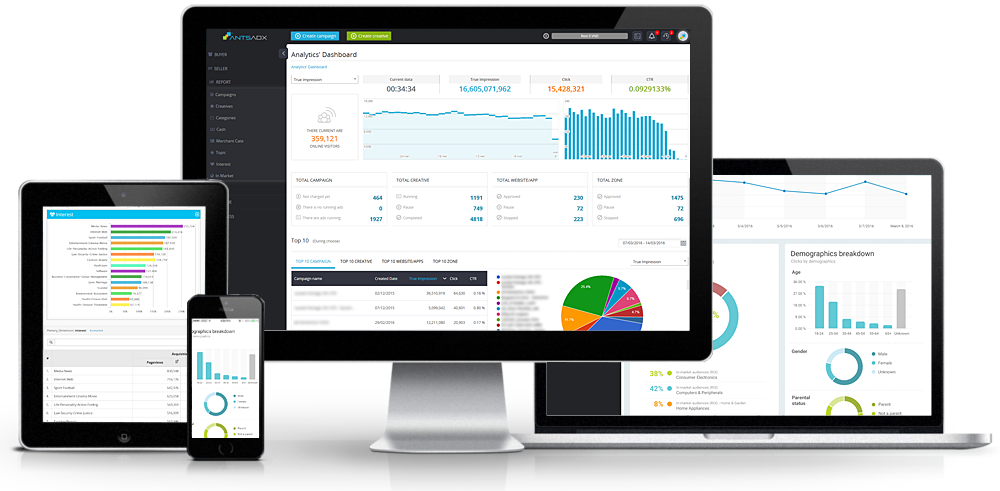 As consumers divert more of their time and attention to tablets, smartphones and other connected mobile devices, advertising dollars have been quick to follow. To help publishers capitalize on this global trend, PubMatic has brought the same spirit of innovation to mobile media that it brought to the desktop landscape.
With ANTS, you have one ad technology platform to manage ad revenue across desktop, video, mobile, and e-mail. You can classify inventory for your mobile sites or applications, schedule mobile-specific creatives, and view reporting for your mobile inventory or campaigns. Plus, you can monetize your unsold inventory on the ANTS Ad Exchange.
Simplified Mobile Ad Serving
Has your sales team uncovered an opportunity for a lucrative campaign involving a web homepage takeover and iPhone App roadblock? You can set-up that type of cross-platform campaign, forecast availability, and track delivery – all from the ANTS Ad Server.
Deliver ads to all your customer's devices (desktop, laptop, iPhone, iPad, Android) in both standard and mobile formats (320×50, 300×250, 728×90, 160×600), and custom sizes.
Manage all of the mobile options – targeting, creative, and mobile-specific ad tags – through an easy-to-use interface.
Buy and Sell Mobile Inventory in Real-time in ANTS Ad Exchange
Make even more money by putting your unsold mobile inventory into ANTS Ad Exchange, where publishers and advertisers buy and sell mobile ad impressions in a real-time auction. Our ad exchange is integrated directly into the ANTS Ad Server, so with a single click publishers can get higher fill rates at better CPMs.