The 1st Largest Ad Exchange - Self-Serve DSP in Vietnam.
ANTS Ad Exchange is a real-time advertising platform for marketers who need tools that are easy enough to use, but powerful enough to produce real-world results.
Real-Time Bidding (RTB) technology has re-invented traditional banner advertising. In the same way that search engines use keywords, RTB uses behavioral and demographic data to target ads at specific audiences, producing results like never before.
Until now, the power of RTB has only been available to big-budget brands and agencies. We believe that advertisers of all sizes should have access to world-class RTB technology. That's why we built the ANTS Ad Exchange platform.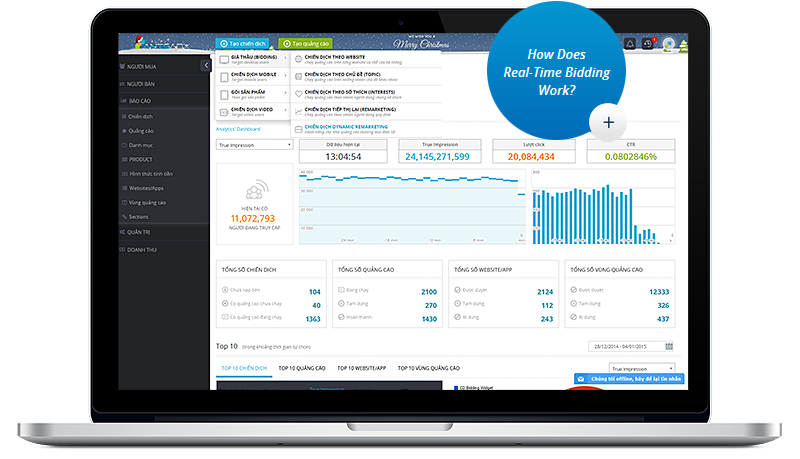 Performance Controls
Online advertising needs to perform. We give you controls to track, advanced targeting and optimize your campaigns, so that you can achieve your goals.
Conversion Tracking (CPA) - The most straightforward way to determine if you are running a profitable campaign. Track conversion and revenue for use in your reporting.
Landing Page Tracking - Track the performance of your landing pages by adding a small piece of code to them. See how many people click through to your next step.
Retargeting - Get a second chance to make a first impression. Target people that have already visited your website with custom ad campaigns designed to bring them back.
Demographic - Use demographic and consumer-interest targeting to show ads solely to your target audience. No more wasted ad buys.
Geographic - Our geographic targeting is so powerful that you can show your ads to anyone, anywhere. Target by country, region, city, or zip code.
Frequency Capping - Limit how often your ad is shown to the same person in a given time period. Increase or decrease the cap, depending on whether your goal is performance or branding.
Budget Pacing - Ensure that your entire budget isn't spent off the hop. Our custom-built pacing solution ensures that your budget is delivered evenly.

Campaign Tools
Our flagship Buying-DSP product includes built-in ad tools, launch and run your multi-targeting campaigns.
AdPlanner - Creating a custom media plan is easy. Simply filter our list of over 300 premium websites by category, country, exchange, device type, and more. Then save your plan for use in your next campaign.
Contextual Campaign - Contextual targeting system analyzes the content of each webpage to determine its central theme, which is then matched to your ad using your keywords and topic selections, your language and location targeting, a visitor's recent browsing history, and other factors
Behavioral Campaign - Behavioral targeting system increasing the effectiveness of advertising using user web-browsing behavior information. In particular, behavioral targeting uses information collected from an individual's web-browsing behavior
Dynamic Remarketing Campaign - Retargeting takes this a step further, letting you show previous visitors ads based on products or services they viewed on your website. With messages tailored to your audience, dynamic remarketing helps you build leads and sales by bringing previous visitors back to your website to complete what they started.
Dynamic BrandBuider - You don't need to be a programmer to add dynamic elements to your banners. Create once format and BrandBuilder will dynamic generate more than 100+ ad formats for you.
AdBuilder - Organizing all of your banner ads can be a hassle. Upload them once to your AdBuilder, making it easy to insert them into future campaigns.
Ad Tag - You can use 3rd parties tag/script for tracking your ad.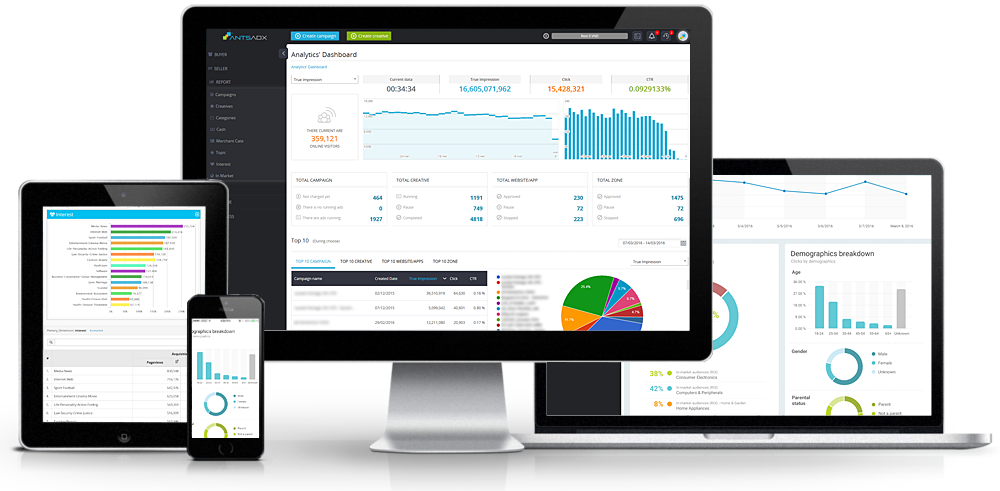 How powerful is our platform?
These are just some of the features that have made us the world's leading self-serve ad platform.
Real-Time Bidding - We process over 10,000 ad opportunities per second and respond to them, on your behalf, in under 10 ms. Which means you win more ad space.
Real-Time Statistics - No waiting hours or days for reporting. Watch your ad campaigns perform live, and optimize them in real time. Less delay means less wasted ad spend.
Granular Reporting - Never again do you have to wonder where your ads are being shown. ANTS Ad Exchange provides full reporting transparency down to the site, placement and creative levels.
Maximum Reach - We plug into all major ad exchanges, giving you access to billions of impressions on both web and mobile devices every day.
Built-In Ad Serving - No ad server? No problem. The ANTS Ad Exchange ad platform does all your ad serving and content delivery. For all your ad campaigns. No charge.

Advanced Features
Do you have unique campaign needs? We probably have the tool for you.
Auto-Optimization - You may have too many campaigns, too many sites, or too many ads to tweak manually. We can automate the optimization process for you.
Brand Protection - Blue chip client with strict brand protection needs? Our best-in-class technology ensures that your ads are only shown on brand safe pages.
Ad Tag Support - Larger marketers want to use their own ad servers to consolidate their stats and serve unique ad formats. Ask us to enable 3rd party ad tag support for you, if you need it.
Private Marketplace - Need more impressions from specific publishers? Ask us about creating private deals. We can arrange direct deals, so that you can get more exclusive ad inventory. ANTS ADX's lets you target any tech parameters and browser: Firefox, Chrome, Opera, Safari, or Internet Explorer.