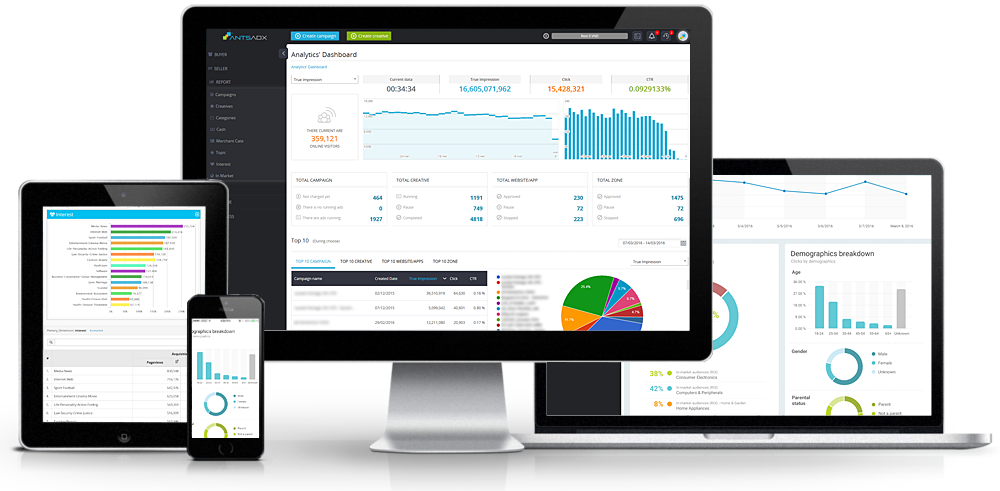 ANTS is the leading technology-driven integrated internet advertising platform in Vietnam and Southeast Asia.
ANTS has led the industry in helping agencies and advertisers to more effectively create, manage and grow high-impact digital marketing campaigns and simplify their operations. ANTS Ad Exchange is a real-time advertising platform for marketers who need tools that are easy enough to use, but powerful enough to produce real-world results.
ANTS pioneered the Private Marketplace, Real-Time Bidding, Re-Targeting and Dynamic Re-Targeting, Contextual & Behavioral Targeting and built technology that made it easy for advertisers/agencies to identify new opportunities and control how every impression is bought across desktop, mobile and video. Advertisers/Agencies have access to over top media publishers, including supply side platforms, ad exchanges, and ad networks, through the ANTS Ad Exchange, supplemented with customized consulting services that help maximize revenue and grow advertiser's business.
ANTS Ad Exchange – Self-Serve Advertising Platform unlocks the best available audience for your campaign across a broad network of premium websites, via a highly targeted segment, or even from a single site.
Buy in real-time
Manage, traffic, serve and review your campaigns across online display, rich media, in-stream video
Approximately 30 million users in Vietnam
40% of comScore 100 Vietnam websites
Safe & secure access
ANTS's Ad Operations team provides unparalleled service with dedicated points of contact, while our global services and support teams are available 24/7/365 to address buyer needs and requests—ranging from integration to implementation and beyond.
ATNS's ongoing commitment to solving the needs of advertisers/agencies means that our platform will continue to evolve as the digital ad landscape does.
ANTS Ad Exchange (ADX)
Global Real-Time Bidding Marketplace
Reach the world's top publishers, SSPs, and ad networks through an ANTS Ad Exchange (Self-Serve Advertising Platform) where you'll trade with real-time bidders to reach their ideal audiences so you can maximize their campaign performance – across all screens.
Built-in tools that make it easy to organize, launch and run your campaigns.
Define your target audience and set a bid for each campaign.
Opportunities to purchase exclusive and unique inventory from leading publishers.
Display Ad by Channel, Target Audience and Self-Optimization.
Effectiveness and Fully Report in One Dashboard.
No serving cost or tech fees.
Pay by credit card or invoice.
Integrate with ANTS Ad Exchange using our open ANTS APIs.