ANTS Ad Exchange Drives Publisher Revenue through Real Time Auctions (RTB)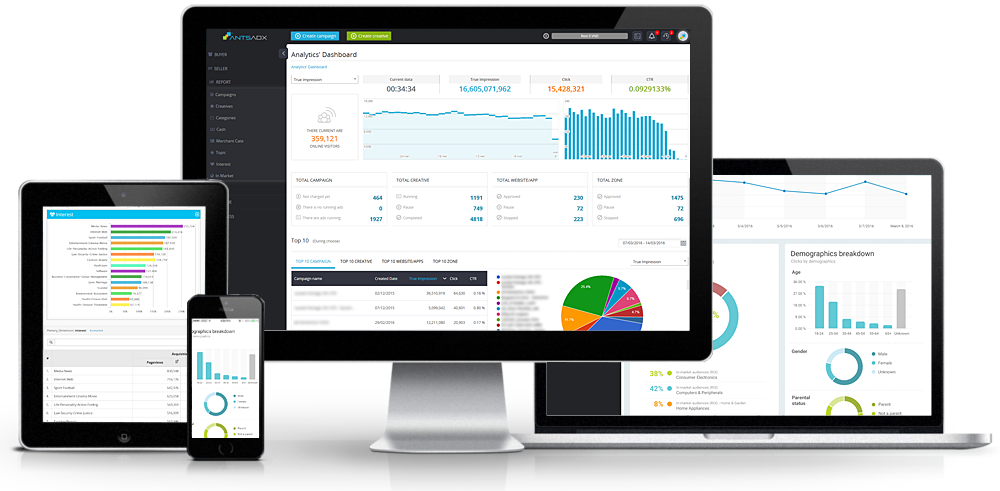 The ANTS Ad Exchange is 1st largest Ad Marketplace in the Vietnam and includes 300+ publishers running more than 1 billion ad impressions every month. Hundreds of the industry's top DSPs, networks and trading desks buy ad space, and in fact TOP of advertisers buy ads through our ad exchange.
As a publisher, you will be able to:
Maximize the value of every impression
Maximize CPMs through price floors and real-time auctions in the ad exchange
Retain control by choosing which advertisers can bid and what they can buy
Have complete transparency of reporting details with buyers and amounts paid
Access all of the largest DSPs and Ad Networks through the ad exchange
Realize higher margins since there are no hidden costs or fees
Understand how advertisers, DSPs, and Ad Networks are bidding on and buying your inventory.
Integration with the ANTS Ad Server and Ad Exchange for a total revenue management platform
Increase Control
Take back control of your ad space. Choose which advertisers can bid, and what impressions they can buy in the ad exchange. Directly control ad quality by blocking individual buyers (ie. Games, Adult), individual creative, content categories (ie. Healthcare, Fashion) and types of creative (ie. Flash, audio). Use whitelist and blacklist features to eliminate channel conflict—ensuring advertisers who buy direct continue to pay premium rates.
Maximize Overall Yield
Increase your CPMs with real-time auctions in the ANTS Ad Exchange where each impression is sold to the highest-paying advertiser. Grow your CPMs further by making your direct-sold campaigns compete against this strong demand base.
ANTS Ad Exchange platform provides superior control for pricing rules and deep insights on buyer inventory preferences, packaging performance and bidding behavior, empowering publishers not only to take advantage of RTB, but to do so as part of a complete digital monetization strategy that will help grow their business. Publishers that move onto the ANTS Ad Exchange see significantly higher eCPM or pricing than they do from traditional ad network transactions and media buyers are able to pinpoint the right inventory and audiences to fulfill their marketing campaigns in real time.
For buyers who do not use Real-Time Bidding, ANTS Ad Exchange can offer a bid on their behalf based on historical buying insights — all while still managing business rules for brand control, pricing, and advertiser block lists.
Use with No Risk
Set a minimum price for your ad inventory when you place it in the exchange, so only ads that pay more than your direct-sold campaigns are served. Everything else is defaulted back to you if you like. You can even use the ANTS Ad Exchange in tandem with other SSP partners (Rubicon, AdMeld, etc.), but the ANTS Ad Adserver solution delivers superior yield.
Take Advantage of Programmatic Premium
ANTS Ad Exchange offers a full suite of programmatic premium options, from traditional rule setting in the RTB ad exchange, to selling your ad space only to specified ad buyers, and even selling advanced bookings through audience futures.